April 12, 2021 5:04 PM
Two pair ace Pacific District tests
TWO JR. DUCKS AND TWO LADY DUCKS TIER I TEAMS EARN NATIONALS BERTHS
By Chris Bayee
The long, winding and unusual road that has been the 2020-21 season will continue for a pair each of Anaheim Jr. Ducks and Lady Ducks teams.
The Jr. Ducks won 16U and 18U Tier I Pacific District titles, while the Lady Ducks captured Tier I Pacific District championships at 16U and 19U on Sunday at suburban Phoenix. 
Those four teams, along with Anaheim Ducks High School Hockey League members Santa Margarita Catholic and Orange Lutheran, are headed to the USA Hockey Youth Nationals during the final three weeks of April at various sites.
The teams could not play games in California this season due to restrictions imposed due to the Covid-19 pandemic, but what amounted to season-long road trips – at times interrupted by shutdowns due to positive tests - steeled the teams' resolves, their coaches said.
The Lady Ducks' triumphs gave them 42 Nationals qualifiers, including 37 at Tier I, since 2001. The Jr. Ducks, meanwhile, have had 21 teams – 13 at Tier I – qualify for Nationals since 2013.
The Jr. Ducks 16Us held off the San Jose Jr. Sharks, 2-1, while the 18Us edged the Wenatchee Wolves, 4-3, in overtime. 
The Lady Ducks 19Us swept the Seattle Lady Admirals in two games, while the 16Us took two of three games from the Valley Thunder of Wasilla, Alaska.
Here is a rundown of each team's run:
JR. DUCKS 18U
A Jr. Ducks 18U team will make a trip to Tier I Nationals for the fifth time since 2016, but this season's edition needed extra time to do it.
"This was the craziest game I've been a part of as a coach," August Aiken said. 
The 18Us defeated Wenatchee 5-1 in the preliminary round, and had outscored foes 25-3 entering the final. Sunday's game was a different story.
"We hadn't faced a ton of adversity in our first four games," Aiken said. "We'd score early goals and sort of take off from there.
"Sunday, they scored two minutes in, then they got another one."
The Jr. Ducks had to overcome a 3-1 deficit heading into the third period. Benjamin Rutkai's power-play goal drew them to a goal, and then Marko Giourof struck 4:31 to go in regulation to tie the score and again 6:09 into overtime to decide the outcome.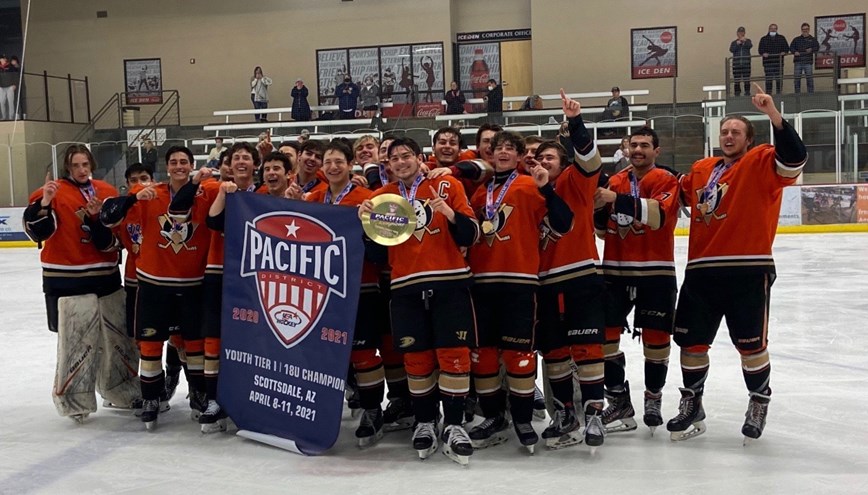 "We had a goal disallowed with about 8 minutes left, and we could have folded, but the team stuck together," Aiken said. "Once we tied it I knew we were going to win it. It was just attack, attack, attack in overtime."
This trip to Nationals took on extra meaning because of the team is composed of so many long-time Jr. Ducks, Aiken added. 
"Our '02s went through this (Districts) experience as 16s. The '03s had a rough time at State last year and were really fired up," he said. "That combination helped us."
Both Jr. Ducks teams will compete at Maryland Heights, Mo., (suburban St. Louis) from April 29 to May 3.
JR. DUCKS 16U
The 16U team earned the club's fifth trip to Nationals at that level since 2013 by winning a special teams battle on Sunday.
James Hong and Christian Kim scored power-play goals to stake the Jr. Ducks to a 2-0 lead after two periods, but the Jr. Sharks pulled to one with a PPG of their own and had a two-man advantage late in the game to keep things tight.
"We were fortunate to come out victorious," said coach Alex Kim, whose squad defeated San Jose, 7-0, in a preliminary-round game. "San Jose did a good job preparing for the championship game."
The Jr. Ducks outscored opponents 33-3 in the four games heading into the final. Goaltender Nick Avakyan allowed just four goals in five games. 
"The final game was reflective of the whole past year," Kim added. "We had to battle through shutdowns, the uncertainty of if we would have a season and then how much of a season. 
"We're grateful the club pushed forward and allowed teams to play."
The victory was particularly sweet for the team's 2004 birth years, who qualified for Nationals at 14U in 2019 and 15U last year. However, last season's National tournament was cancelled.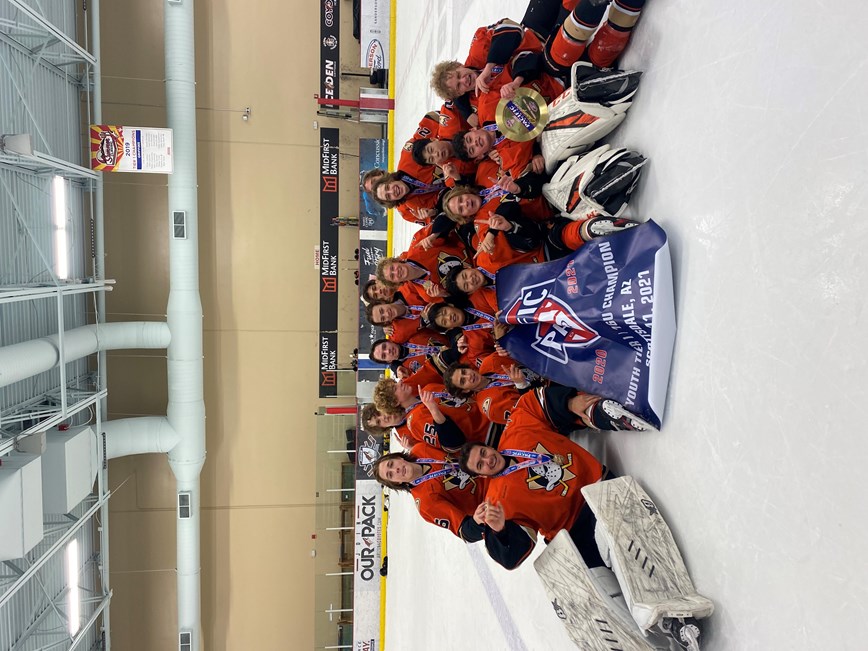 LADY DUCKS 16U
The LDs completed a hotly contested three-game series against Valley Thunder with a 5-2 victory to advance at the expense of the team that ended their season in 2020. 
"It was a very intense, very physical game," coach Gary Cox said. "It wasn't a skills contest.
"Goaltender Ella Park had a very solid game for us. That's where it began."
Forward Mia Catalano scored three goals, and the line centered by Cassandra Johnson combined with defenseman Alexis Fields to help keep Thunder Valley's potent top line in check. 
"The Johnson line's play gave us a chance, and that allowed Catalano's line to get going," Cox added. "It was a great game."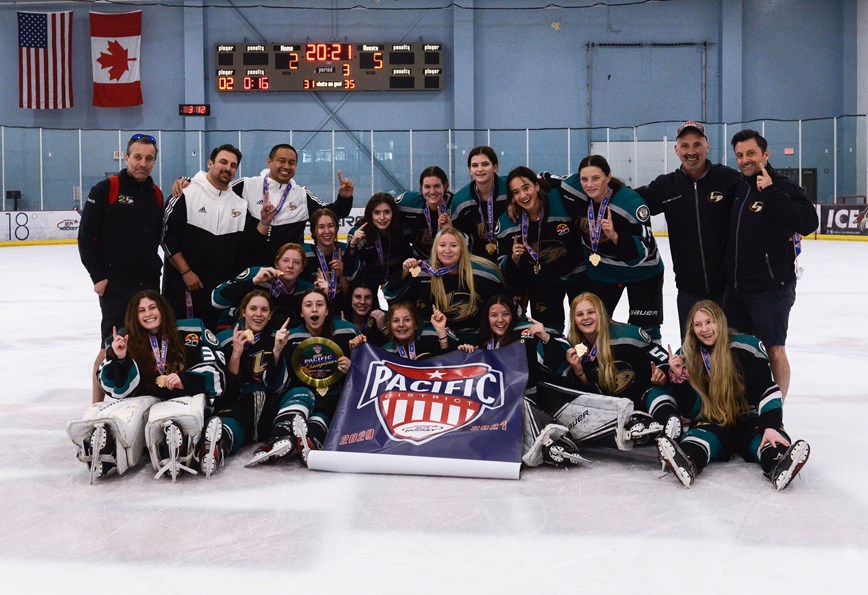 The Lady Ducks also won 5-2 on Friday, but Valley Thunder took a 6-2 verdict on Saturday. 
"We knew we'd need everyone pulling on the same rope, and we got that," Cox said. "Everyone contributed."
Sunday's clincher propelled a Lady Ducks 16U AAA team to Nationals for the ninth time since 2010.
LADY DUCKS 19U
The LDs twice shut out the Lady Admirals by identical 4-0 scores, with goaltenders Kiera Tallas and Kaila Bush (an Amherst College commit) each posting a shutout.
It's the fourth year in a row and the eighth time since 2012 a LDs 19U team advanced to the Tier I National tournament. Last year's event was cancelled.
"I'm especially happy for our seniors, who were so bummed they couldn't go last year," coach Ryan Skier said.  "The difference this weekend was our commitment level to each other. This group is really close. They have a willingness to battle for each other."
Each goaltender had a stretch of play that sparked her teammates, Skier added.
"Kiera had to stop a handful of breakaways early in that first game," he said. "It could have been a different story if she hadn't.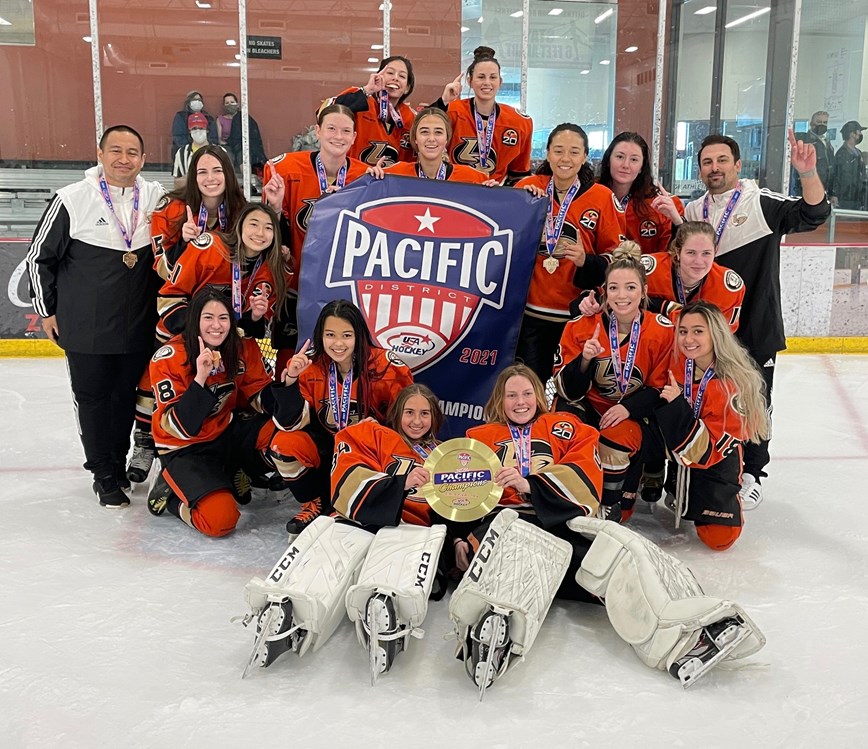 "And Kaila was tested a lot early because we got into some penalty trouble. She made one diving save with her paddle that was a momentum-changer for us. We took control of the game after that."
Both Lady Ducks teams will compete at West Chester, Pa., from April 29 to May 3.
Four other teams competed at Districts:
The Lady Ducks 14Us went 1-1-1 with a shootout loss in the Tier 1 competition.
The Jr. Ducks 14U team went 2-1 in preliminary games, outscoring foes 16-3 in the process, before falling in the Tier 1 semifinals. 
The Jr. Ducks 15Us went 3-0 in preliminary games, outscoring opponents 15-3, before falling to Team Alaska, 3-1, in the championship game. The 15Us had defeated Team Alaska, 3-2, on Saturday. 
The Jr. Ducks 18U Tier II team lost in the CAHA State championship game to the Tri-Valley Blue Devils, 3-1, in suburban Las Vegas. The 18Us had gone 4-0, outscoring foes 17-4, leading up to the final.  "Our players gave everything they had," coach

 

Mike Perkins

 

said. "I'm proud of them."
Santa Margarita and Orange Lutheran will begin play on April 15 at Omaha, Nebraska.