April 8, 2021 2:04 PM
Jr Ducks Alum Cam York Signs with Flyers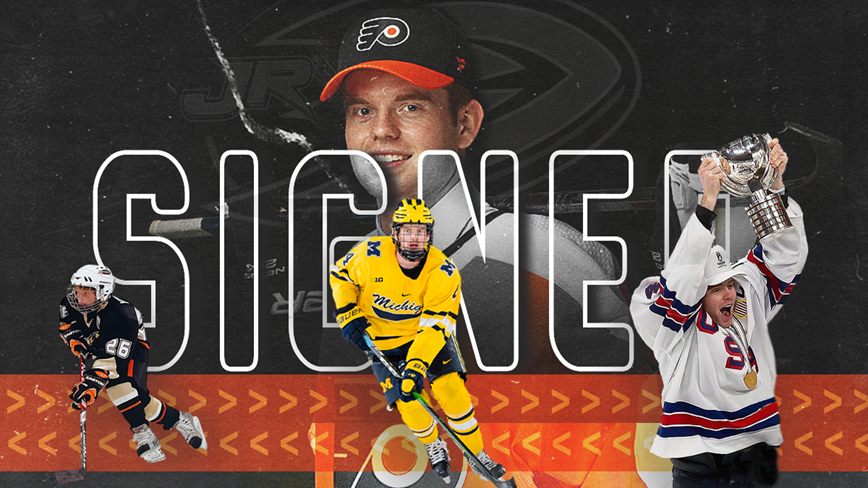 ANAHEIM NATIVE, JR. DUCKS GRAD YORK ONE STEP CLOSER TO NHL, SIGNS CONTRACT WITH PHILADELPHIA
Longtime Anaheim Jr. Ducks defenseman Cam York has signed a three-year contract with the NHL's Philadelphia Flyers.
York, who helped Team USA capture a gold medal at the World Junior Championship in January with fellow Jr. Ducks alum Ryan Johnson, recently completed his sophomore season at the University of Michigan.
In June 2019, the Flyers selected York 14th overall in the first round of the NHL Entry Draft. That pick made him the highest drafted California-born and –trained player. 
The Flyers have assigned York to their American Hockey League affiliate at Lehigh Valley. There is a chance the franchise might call him up before the end of the regular season, Flyers President of Hockey Operations and General Manager Chuck Fletcher said this week. 
York's signing came after Michigan had qualified for the NCAA Tournament but was unable to participate due to positive Covid-19 tests. 
York had a lot to do with the Wolverines' success, piling up 20 points in 24 games this past season and being selected the Big Ten Defenseman of the Year. He scored 16 points, which also led the Big Ten, as a freshman, when he was named to the league's all-rookie team and was a finalist for rookie of the year. 
This season, he also was a nominee for the Hobey Baker Award, which is presented annually to the top men's player in NCAA hockey. 
"Thank you to the University of Michigan for the opportunity to play hockey for such an amazing institution," York told the school's official website. "I couldn't be more excited to join (the Flyers)."
The two-year run was enough to convince the Flyers that the time was right for York to move on to pro hockey.
"We are pleased with Cam's development and believe he is ready to take the next step with our organization," Fletcher told the team's official website. "He was one of the top collegiate defensemen at the University of Michigan and was instrumental in helping lead the United States to the gold medal at this years World Junior Championships."
York is one of 31 players with ties to the Jr. Ducks who made Division I hockey commitments in the past seven years. Nine of those are from the 2001 birth year, a list that in addition to York includes Johnson (Minnesota), Josh Groll (Michigan), Nick Kent (Quinnipiac), Jackson Niedermayer (Arizona State), Jonathan Panisa (Massachusetts), Jerrett Overland (Air Force), Dominique Petrie (Harvard) and Ethan Wolthers (Massachusetts). 
In addition to his World Junior gold medal, York was part of the 2020 U.S. National Team and won silver and bronze medals at the U18 World Junior Championships and another gold at the U17 level in 2018. 
Speaking to NBC Sports Philadelphia this week, York said, "I felt like I was ready for the next challenge. … I really want to challenge myself, and the AHL and the NHL are both really good leagues and they've got a lot of really good players in them. I'm just looking forward to the challenge now."
For more from Cam, click here